Checking your stamp purchase history
You can see the stamp purchases you have previously made by checking the purchase history.
To check the purchase history
On the JPay home page, on the Navigation menu, click Email.

On the Compose page, on the Email menu, click Purchase History.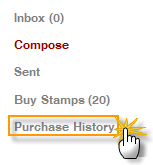 Note: On the Purchase History page you can click Print Version to view a printed version of your purchase history.
Related Topics
Before sending email you must first buy stamps. Click here to learn about buying stamps.
Once you have bought the stamps you can send email to an inmate/offender. Click here to learn about sending email.