Checking your media purchases
You can check your media purchases on the Music History page. There you will be able to view the JPay credits you have given to inmate/offenders as well as the media players you have purchased.
To check your media purchases
On the JPay home page, on the Navigation menu, click Music.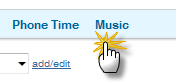 On the Music menu, click Music History.

In either the JPay Credits History list or the Media Player Purchases History list you can click on an item row to view the billing statement for that purchase.
Related Topics
You can send an inmate/offender JPay credits that will allow them to buy a JPay Player, music, stamps, as well as print outs of pictures and statements, etc. (if available at their facility). Click here to learn about sending JPay credits.
You can send JPay credits so an inmate/offender can buy a JPay Player but you can also purchase a JPay Player for an inmate/offender. Click here to learn about buying a JPay Player for an inmate/offender.