About the fee schedule
You can view the different fees added to your phone time purchases on the Fee Schedule page. Fees will vary depending on the origin of the payment; for example, whether the payment originated online or over the phone.
To view the fee schedule
On the JPay home page, on the Navigation menu, click Phone Time.

On the Phone Time page, on the Phone Time menu, click Fee Schedule.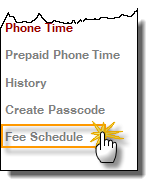 Related Topics
To allow an incarcerated individual to call anyone on their approved caller's list you must fund their general phone time account. Click here to learn about funding their phone time account.
Funding an individual's AdvanceConnect account allows them to call you and only you. Click here to learn about funding the AdvanceConnect account.