Checking your phone purchases
You can check the previous phone time purchases you have made by checking the phone history.
To check your phone time purchases
On the JPay home page, on the Navigation menu, click Phone Time.

On the Phone Time menu, click History.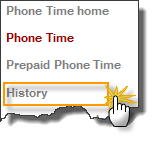 In the Purchase History list you can click on an item confirmation number to view the billing statement for that purchase.
Note: On the Purchase History page you can click Print Version to view a printed version of your purchase history.
Related Topics
To allow an incarcerated individual to call anyone on their approved caller's list you must fund their general phone time account. Click here to learn about funding their phone time account.
Funding an individual's AdvanceConnect account allows them to call you and only you. <![CDATA[ ]]>Click here to learn about funding the AdvanceConnect account.