Checking your money transfer history
You can check your previous money transfers on the Transfer History page.
To check your money transfers
On the JPay home page, on the Navigation menu, click Send Money.

On the Send Money menu, click Transfer History.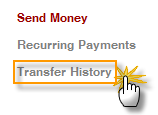 In the Transfer History list you can click on an item row to view the statement for that transfer.
Related Topics
You may want to send money to an inmate/offender without having to activate a recurring payment. You need to use the Send Money page to do this. Click here to learn about sending money.
If you will be sending money on a regular basis you may want to send the money as a recurring payment. Click here to learn about activating recurring payments.