Sending money
You can make online payments using JPay.com. When you send money using the Send Money page you will be funding an inmate/offender's commissary/spendable account, unless they are located in a facility where other transfer categories are available. You can also fund an inmate/offender's media account (where applicable) so that they can spend those funds on kiosk related services, like purchasing music, stamps, etc.

Things to remember
To make online payments
On the JPay home page, on the Navigation menu, click Send Money.

On the Send Money page, do one of the following:
In the Transfer Category list, select a transfer category, then click Continue.
or
If no Transfer Category is available click Continue.
Choose your payment method by selecting a previously saved card from the Select card list, or click Use a new credit/debit card to use a new card (you will be prompted to add billing information for the new card).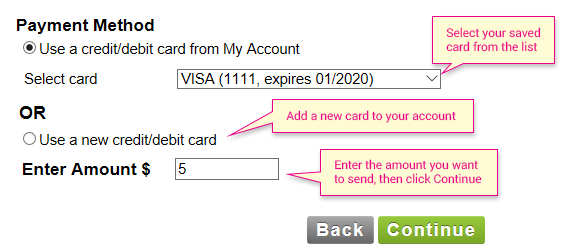 In the Enter Amount field, enter the amount of money you want to send to the inmate/offender, then click Continue.
In the Payment Verification box, make sure the information is correct then click Submit.
Related Topics
If you will be sending money on a regular basis you may want to send the money as a recurring payment. Click here to learn about activating recurring payments.
You can view your previous payments on the Transfer History page. Click here to learn about checking your transfer history.